JMB Studio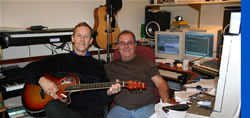 JMB Studios is situated in Evanton, which is 16 miles north of the Highland capital Inverness.
I am running the studio and over the years has gained much experience in recording and playing live gigs as well. I will work with you to produce an album of high quality and standard.
Mike Sheehan doing a spot of harmony
The heart of the studio is in the main recording and editing suite which is all computerised and digitally mastered using Sonar 4 producer .
Top session musicians from Scotland & Ireland are available at your request. Local female harmony singers who are excellent singers in their own field of music and one is a gold mod medallist.
So if you want to record, we want to help you, From a demo to a full album mastered on to Cd or Dat. Relaxed atmosphere and excellent rates. Accommodation may be available if required.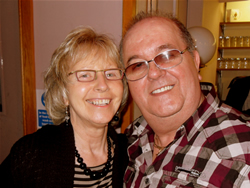 Helen Macpherson local DJ from Moray Firth Radio.A big thank you Helen for playing my music and advertising my Gigs on your program since early eighties Bless you.
CD DUPLICATION & RECORDING SERVICE
Full design & Artwork Service from original photoes CD on body printing colour/mono
Booklet & Inlay cards, colour/mono, gloss/ matt
Short Run specials 25 to 250 Digital Mastering and Editing

Contact Johnny: Tell: 01349 830540   Mob: 07949873039